Best Western Plus Clocktower Inn - Billings
45.78365

,

-108.50297
Billings

,

United States

|
59US$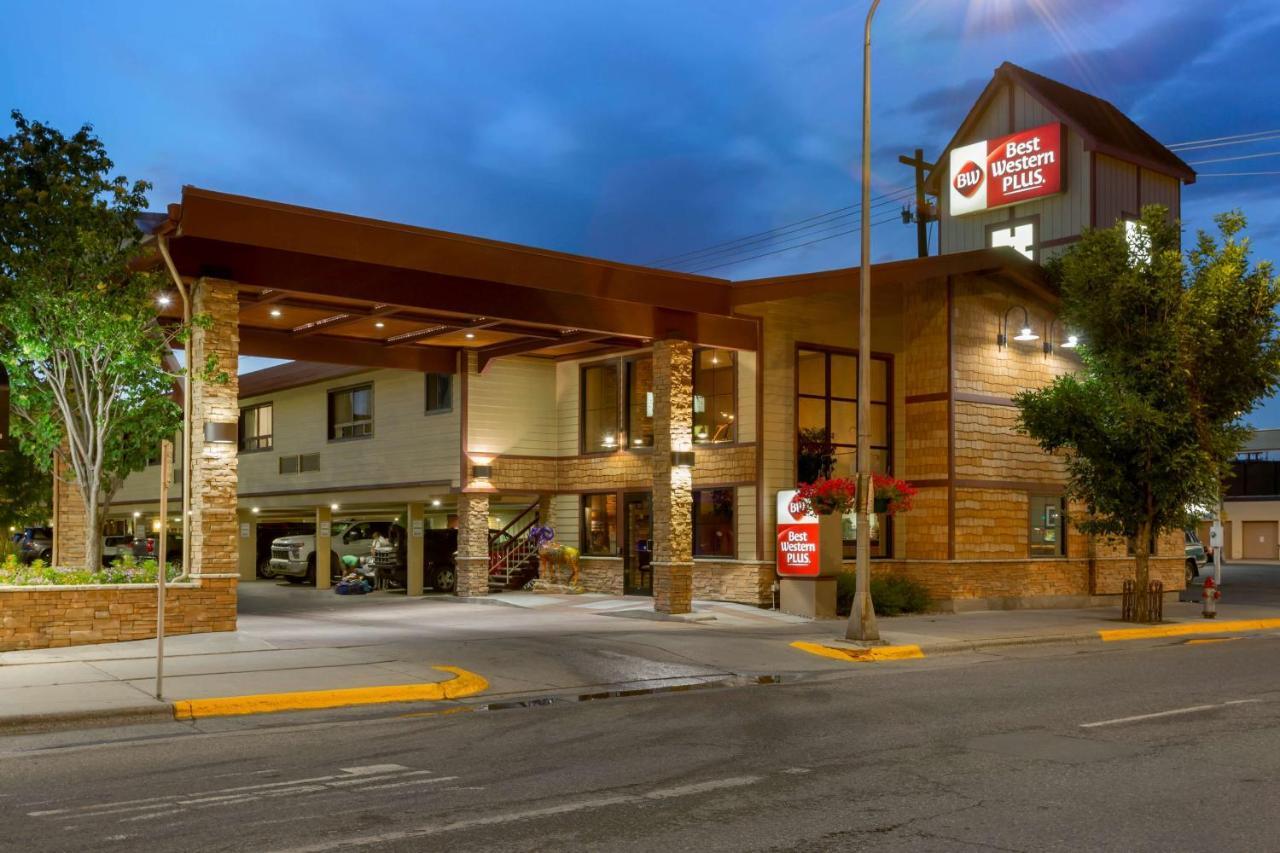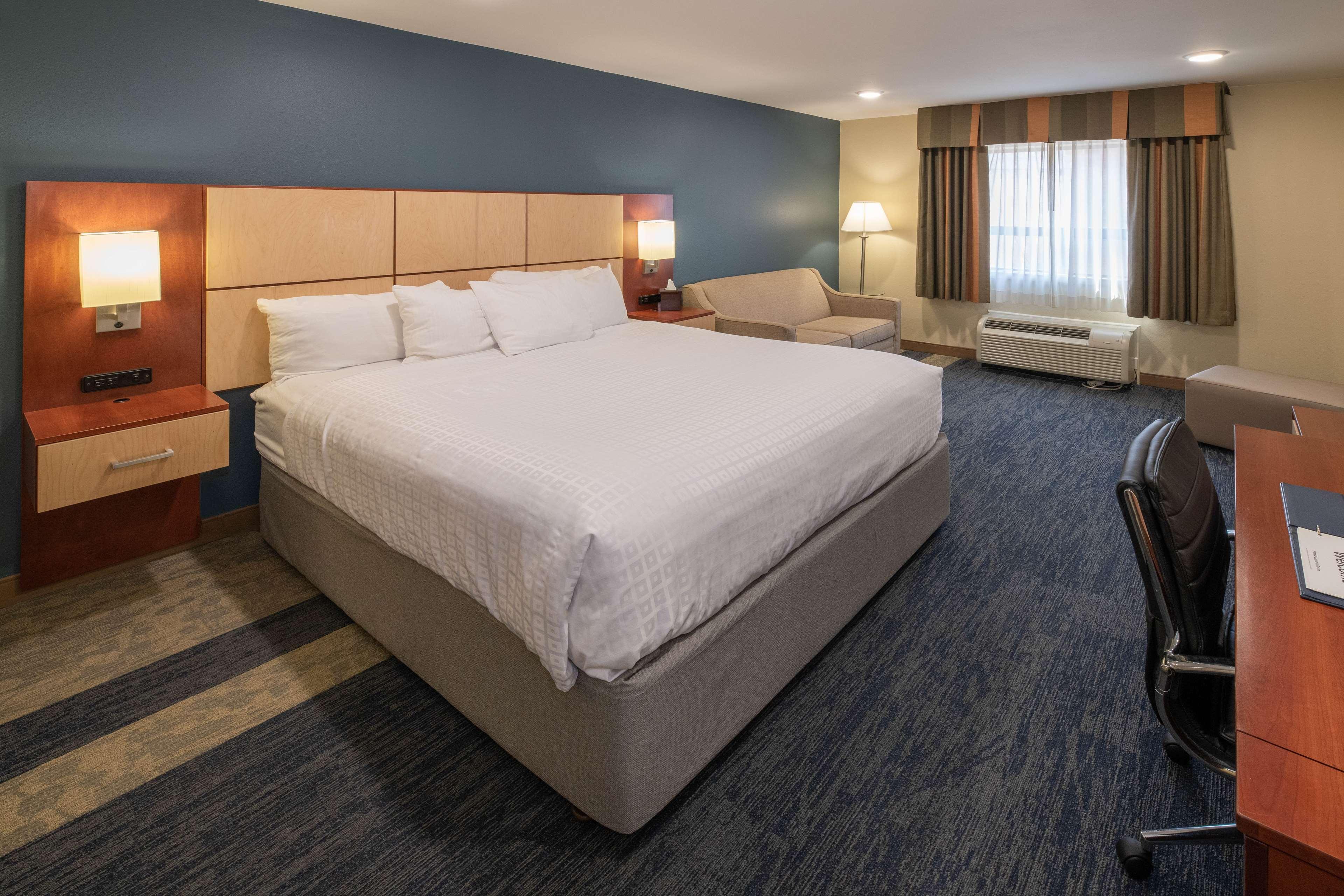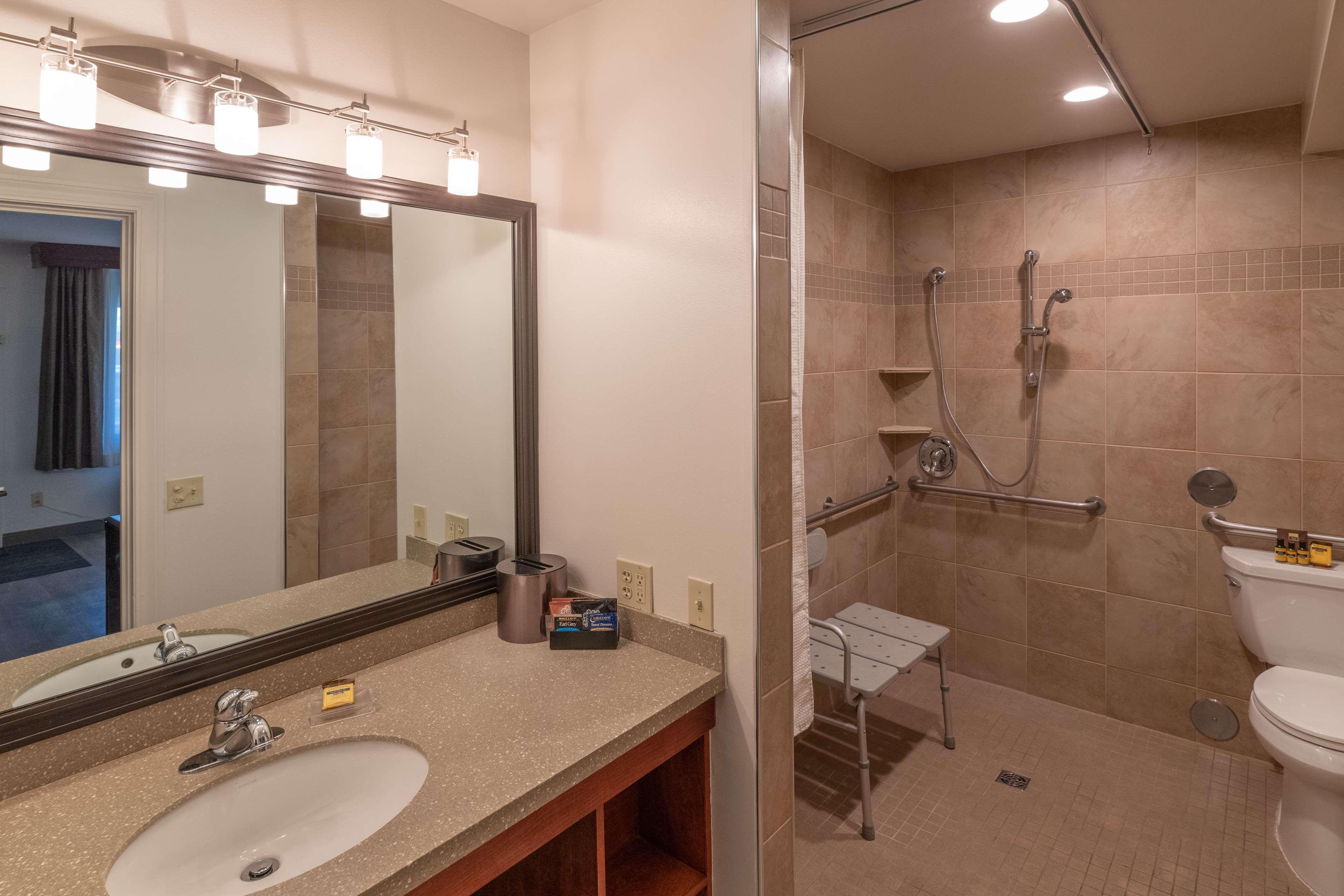 Address
2511 1St Avenue N
,
Billings
,
Montana
,
United States
,
59101-2320
, Montana
Overview
Situated among local bars, a park and cafés, around 5 minutes by foot from Riverfront Park, Best Western Plus Clocktower Inn Billings includes 125 rooms. With Toucan Gallery nearby and a sporting attraction like Dehler Park Stadium merely 0.7 miles away, the 3-star inn boasts steam baths and an outdoor swimming pool.
Location
The hotel is located in the center of Billings at the footsteps of a bus stop. The Western Plus Clocktower is located in parks, and close to Billings Club. The Billings accommodation is also nestled at the footsteps of boutiques and a bakery, and Moss Mansion lies approximately a 15-minute walk away. Visit Oasis Water Park, 1.9 miles away from Best Western Plus Clocktower Inn, and feel in total harmony with the nature of United States of America.
City of Billings MET Transit Transfer Center bus station, allowing a good connection throughout the city, is not far from the Billings hotel.
Rooms
There are non-smoking rooms at the property, some of them feature high-speed internet and cable channels as well as private bathrooms fitted with a separate toilet. They are furnished with a work desk, and separate bedrooms feature beds with linens.
Eat & Drink
The pet-friendly hotel features a free continental breakfast. Western Plus Clocktower Billings offers its own Stella's Kitchen and Bakery restaurant, where guests can try American dishes.
A american breakfast is served and charges are applicable. 
Leisure & Business
An outdoor pool and a golf course can be arranged at this Billings hotel for an extra charge. Fitness classes and a gym area are available to guests of the pet-friendly accommodation. Alternatively, guests can exercise in a gym facility. Corporate travelers will benefit from meeting rooms available on site.
Internet
Wireless internet is available in the entire hotel for free.
Guest Parking
Public parking is possible on site for free.
Year renovated:   2007.  Number of rooms:   125.
Former name: Best Western Ponderosa Inn
Best-Rated Best Western International Hotels around Billings
Best Western International is a renowned hotel brand that prides itself on exceeding guests' expectations with exceptional service, comfortable accommodations, and affordable rates. With locations in over 100 countries, Best Western offers its guests convenient access to popular attractions and activities. Its commitment to sustainability and eco-friendly practices ensures a guilt-free stay for those who care about the environment. Best Western International truly delivers an outstanding guest experience.
15 reviews

90$ / night

10 reviews

77$ / night

429 reviews

198$ / night

59 reviews

191$ / night

164 reviews

59$ / night

34 reviews

188$ / night

32 reviews

136$ / night

112 reviews

90$ / night
Most Booked Hotels for Your Next Trip
Facilities
Most popular facilities
24-hour services
24-hour reception
24-hour security
Food/ Drinks
Bar/ Lounge area
Restaurant
Swimming pool
Seasonal outdoor pool
Indoor swimming pool
General
Wi-Fi
Parking
24-hour services
Food/ Drinks
Shuttle
Fitness/ Gym
Swimming pool
Sports & Fitness
Fitness center
Golf course
Services
Free airport shuttle
Laundry
Dry cleaning
Dining
Bed and breakfast
Restaurant
Bar/ Lounge area
Business
Business center
Meeting/ Banquet facilities
Fax/Photocopying
Spa & Leisure
Seasonal outdoor pool
Indoor swimming pool
Beach umbrellas
Sun loungers
Live entertainment
Sauna
Shallow end
Room view
Garden view
City view
Mountain view
Pool view
River view
Room features
Air conditioning
Heating
Garden furniture
Tea and coffee facilities
Ironing facilities
Bathroom
Hair dryer
Free toiletries
Media
Flat-screen TV
Free local telephone calls
Data ports
AM/FM alarm clock
Good to know
Check-in
from 15:00-23:59
FREE
Check-out
until 11 am
FREE
Children & extra beds
There are no cribs provided in a room. 
Pets
Pets are allowed on request.
Rooms and availability

Bed options:

2 Double beds

2 Queen-size beds

Max:

2 persons


Location
2511 1St Avenue N
,
Billings
,
Montana
,
United States
,
59101-2320
, Montana
City landmarks
Nearby
Restaurants
Hotels nearby
1500 University Dr Montana State University at Billings
Northcutt Steele Gallery
1.3 mi
Swords Park Dr.
Yellowstone Kelly Interpretive Site
1.8 mi
Cemetery
Boot Hill Cemetery
1.8 mi
Museum
Yellowstone County Museum
2.3 mi
Coburn Road
Four Dances Recreation Area
2.3 mi
South Billings Boulevard
Norm Schoenthal Island
2.4 mi
Museum
Yellowstone Art Museum
1900 ft
Museum
Western Heritage Center
1600 ft
2310 Montana Ave
Historic Billings Depot
1000 ft
Museum
Wise Wonders Children's Museum
1400 ft
Gallery
Sunrise Studio & Art Gallery
1700 ft
Library
Billings Public Library
1900 ft
Restaurant
Rock Creek Coffee Roasters
1000 ft
Restaurant
Rockets Gourmet Wraps and Sodas
1100 ft
Restaurant
The Sassy Biscuit Co
1300 ft
Restaurant
B Town Grill Famous Phillies & More
1300 ft
Restaurant
Lisa's Sandwich Den
1500 ft
Getting around
Airports
Billings Logan International

(BIL)
3.2 mi
You can book a shuttle, once your reservation is complete.
Reviews of Best Western Plus Clocktower Inn
Martha

The staff was friendly and helpful during my stay. They accommodated me with a late check-out and even offered a pick-up service late at night. The location was great since it was close to the business district and entertainment area. I also appreciated the coffee and muffins as complementary morning snacks.

There was no free breakfast option available at the hotel. Additionally, the vacuum cleaner noise was bothersome as the lady at reception continued cleaning during my check-in process. Prices were on the higher side, but the quality of the rooms made up for it.

Dennis

This hotel is conveniently located within walking distance of the local restaurant scene, making it easy to find a delicious meal. The rooms were very comfortable and the breakfast was delicious. Families will appreciate the fun leisure facilities, including a pool and game room.

The Wi-Fi connection was unreliable.

Tim

The hotel was in a great location and had a couple of complimentary perks that were nice, including a meal discount program. The room was clean and had updated decor that was pleasing to the eye. Additionally, the staff was friendly and helpful, providing us with useful information on nearby spots to check out.

Unfortunately, our stay was overshadowed by the loud noise that carried through the walls and ceiling. It made it challenging to get a good night's sleep or even relax in the room. Furthermore, the tight parking arrangements made it tough to navigate with a larger vehicle, leading to a frustrating experience. the noise and parking situations detracted from what could have been a great stay.

Alex

My Christmas stay was absolutely amazing. The two complementary breakfast vouchers at the neighboring cafe were the cherry on top of an already fantastic stay. The hotel's location was perfect, being in the heart of the city meant that everything I needed was within walking distance. Additionally, having quick access to local amenities was a bonus. The hotel staff were helpful and friendly, which made checking in and out a breeze. The spacious and comfortable room was the icing on the cake.

There were some setbacks to my stay. The parking lot was too tight to park my large rental car, which made it difficult to maneuver. Secondly, the elevator was too small, which meant that I had to carry my bags up the stairs. While these negative aspects put a damper on things, they did not significantly affect my stay. my Christmas stay was enjoyable, and I'll be sure to recommend it to friends and family.

Jacob

Satisfied with the hotel, it's a fantastic base for staying in Billings. Furthermore, they had free Wi-Fi.

Isaac

The pool was nice, the breakfast was complimentary! Room was a great value for money. We really loved our coffee with goodies at veronika's pastry shop.

missing

The room was very well equipped and clean.

To get breakfast you either have to get up very early, or queue up for a seat. The restaurant is much too small. We left without breakfast.

missing

Super nice staff, very clean

Nothing

missing

Very convenient to airport and restaurants.

rug had two major stains in it.

missing

The poor rating was for only one reason. With all the parking available, you provided only "1" disabled space. The same vehicle was parked in the 1 and only disabled space the entire 3 days we were there. My husband has difficulty walking any distance, and every evening your lot was 90 percent full and w had to park quite a distance from the elevator door. You should check with the ada and find out how many disabled parking spaces you should be providing your guests.

missing

Cleanliness of the renovated rooms

No continental breakfast

missing

Clean rooms, great bed, great TV. Pretty close to dog agility trial. Close to downtown for walking. Dog friendly!

Nothing really

missing

buon albergo in prossimita' del centro citta'.buono il rapporto qualita' prezzo.

missing

Convenient, reasonably priced, clean, friendly.

missing

I stayed here for three nights and found it a great place to stay. It was only a couple of mimutes away from the airport and close, by car, to reach attractions. The room was clean and comfortable, it was cleaned every day and tha bed was soooooo comfty. The swimming pool was clean and a pleasure to swim in as the temp as 99f. The staff were friendly and willing to help when advice needed. I wiould definitly reccomend it to others visiting Billings

There was nothjng about the Inn I didn't like But I didn't like Billings. It doesn.t cater for visitors.
FAQ about Best Western Plus Clocktower Inn
What is the distance from the perfect 3-star Best Western Plus Clocktower Inn to Billings city center?
Billings city center is reachable within a 5-minute walk from the perfect 3-star Best Western Plus Clocktower Inn.
Which landmarks should we visit during our stay in Western Plus Clocktower?
Guests can find Moss Mansion within a 15-minute walk from Western Plus Clocktower or visit Dehler Park Stadium which is just a 14-minute walk away.
Which landmarks are the closest to the perfect 3-star Best Western Plus Clocktower Inn Billings?
Staying at the perfect 3-star Best Western Plus Clocktower Inn Billings, guests will have a chance to visit Skypoint located just 10 minutes' walk from the property, and attend the closeby attractions, Park 2 (0.3 miles) and Billings Depot (0.4 miles).
Does the 3-star Best Western Plus Clocktower Inn have parking on site?
Yes, guests of the 3-star Best Western Plus Clocktower Inn can leave their car in a parking area on site.
What are the recommended dining options during the stay at the hotel?
During the stay at the hotel, guests can enjoy a vegetarian-friendly menu in the onsite American restaurant Stella's Kitchen and Bakery featuring a high rating of 4.5 or check out the nearby restaurants Jake's Downtown and Walkers, located just 650 feet away from the property.
Does the Billings inn serve breakfast?
The Billings inn offers cooked-to-order and continental breakfast types, served daily in the restaurant.
What is the timeframe for check-in and check-out in the perfect 3-star Best Western Plus Clocktower Inn Billings?
Guests of the perfect 3-star Best Western Plus Clocktower Inn Billings can check in from 3 PM to 11.59 PM and check out from 11 AM.
Which facilities are included in the rooms of the 3-star Western Plus Clocktower?
Most rooms of the 3-star Western Plus Clocktower include individually adjustable heating and ironing facilities as well as a coffee maker and a safe and smoke detectors provided for guests' security.
What business facilities does the perfect 3-star Best Western Plus Clocktower Inn provide?
For business travelers the perfect 3-star Best Western Plus Clocktower Inn offers a meeting room and a business center with a work desk and a xerox.
Does the inn feature any spa facilities?
Spa facilities in the inn include steam baths and an outdoor swimming pool.